This post documents the components in a DRS120 quadrotor kit as well as some required additional components sold separately. This micro quadrotor is intended to be used for First Person View (FPV) flight. It's small size makes it easy to transport, maneuverable indoors, and the quadrotor is not currently required to be registered with the FAA since it weights less than 250 grams. This quadrotor, fully constructed with a camera and 750mah 1S battery is only 62 grams.
The construction and autopilot software are fairly simple on this quadrotor making it ideal for beginning pilots. Learning the fundamentals of quadrotor maintenance, programming, and piloting will enable pilots to transition to larger platforms with advanced features and sensors such as a camera gimbal, GPS navigation, or obstacle avoidance.
DRS120 Kit and Additional Components
This quadrotor comes available as a kit from the Drone Race Shop. The kit contains the basic items needed to build the quadrotor including the kit, motors, propellers, battery, and flight controller. A few additional pieces of hardware are required to turn this quadrotor into an FPV racer. The kit is shown below and each of the major components will be described in more detail.
The pieces can be bought independently and are listed below for maintenance and replacement purposes.
Micro Voo 115mm Brushed Race Frame Kit

(1) 115 Micro Voo bottom and (1) top deck
(3) 15mm M3 Nylon Standoffs
(6) 6mm M3 Nylon Screw
(4) "Big Grip" rubber motor grommets
(4) ABS motor feet and wire protector
Micro Scisky Brushed Flight Controller Board

Based on Naze32 32bit Flight Controller Board
20×33.5x6mm
Weight: 2.5g
DSMX/DSM2 compatible 7CH receiver by serial port output
Continuous working current is 4.2A, max current is 6A(5S)
Chaoli 8.5x20mm Micro Brushed Motors

8.5mm diameter, 20mm motor length, 1mm shaft diameter
(2)

clockwise with red and blue wires

(2) counter-clockwise with black and white wires

4 cm wire length

with Micro-JST-1.25 connector

s
Operating voltage: 1.5-4.2V
Load: 3.2A @ 3.7V
Weight: 5g each
In addition to the kit of parts, a few extra items were needed to complete the quadrotor system and make it suitable for FPV flight
Battery Charger

(4) female Micro Losi plug

Voltage input: DC 5v

Voltage output: 42v

Current output: 350-410 mAh
Spektrum FPV Ultra Micro Camera and Video Transmitter

FPV camera, transmitter and antenna into a single unit
Fixed position camera
13.2 X 17.6 X 9mm
Input power: 3.3–4.2V (1S supply)
Power consumption: 300mA @ 3.7V (1S)
Imager: 1/6" VGA CMOS
Camera Lens: 0.95mm IR cut
Field of view: 115°diagonal (90°horizontal)
Resolution: 330 lines
Video output: Analog NTSC video out
Frequency: 5.8GHz (7 channels available, Fat Shark frequency band)
Weight: 4.5 g (with case)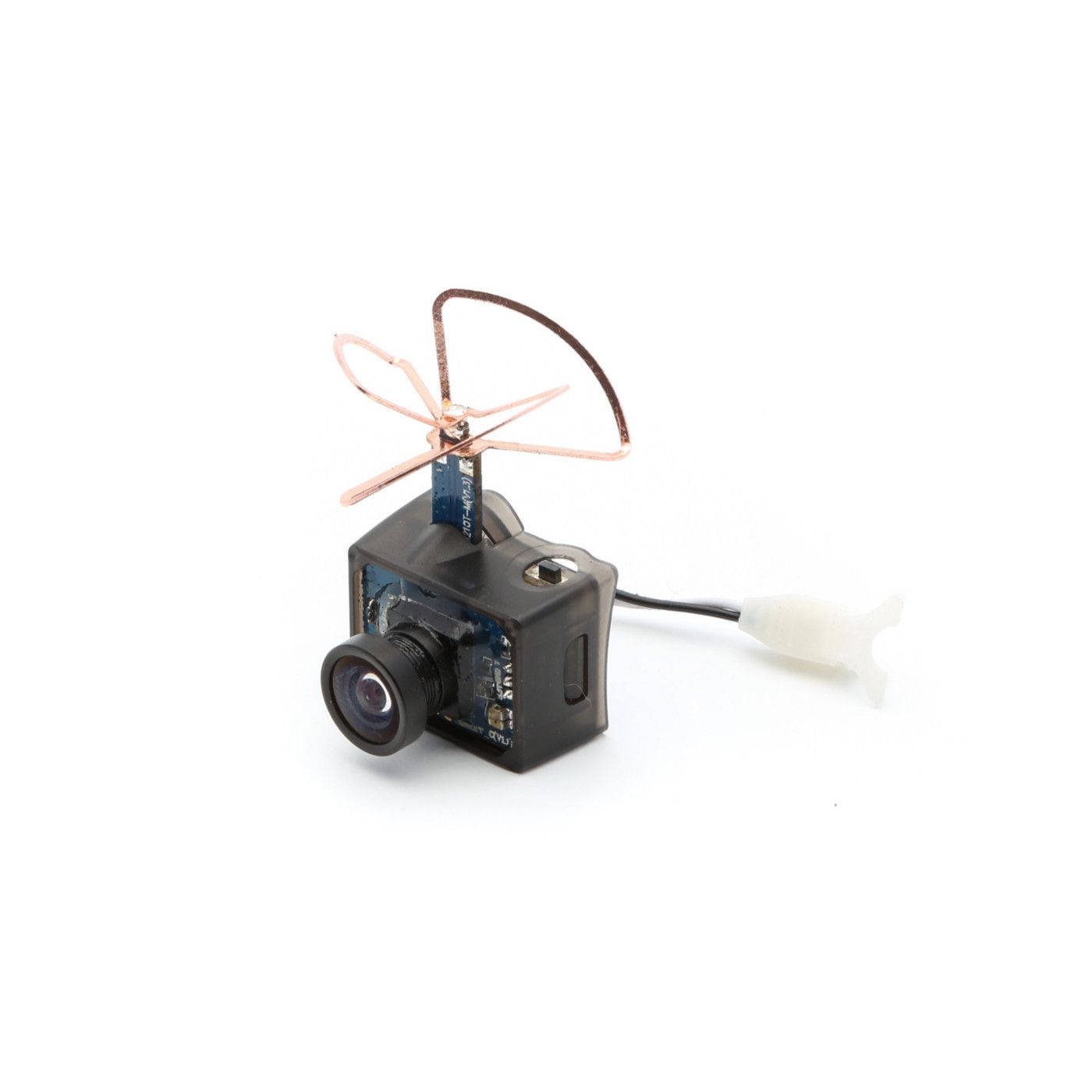 5.8GHz 600mW 32CH Audio Video Wireless Receiver

32 channels: Cover A, B, E, F and R bands
Dual Independent video and audio signal outputs
Power input: 12V
Working current: 200mA max
Antenna impedance: 50

Ω

Antenna gain: 2db
Video impedance: 75

Ω

Video format: NTSC/PAL auto
Dimension: 80x 65 x15mm
Weight: 85g
Antenna connection: SMA
See the following posts for more information about assembling, programming, and operating the FPV quadrotor.